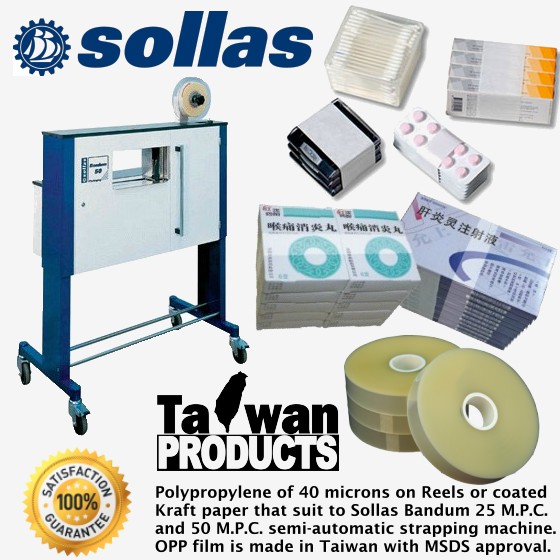 Adapted in strapping machines to strap tightens, heat seals and cuts the strap automatically for bundling small articles.
Polypropylene of 40 microns on Reels or coated Kraft paper that suit to Sollas Bandum 25 M.P.C. and 50 M.P.C. semi-automatic strapping machine. OPP film is made in Taiwan with MSDS approval. The material of our plastic film on reels is Polypropylene 75%, Polyester 25% characterized by its reliable sealing features, cost effective, identification no hazards, green and clean for environment comply with MSDS approval.
MICRO-PROCESSOR CONTROLLED BANDING - BANDUM 50 / 25 MPC
The Sollas Bandum MPC is a micro-processor controlled banding machine, that applies a Polypropylene or Kraft paper band around products in a wide variety of shapes and sizes. Reliable industrial quality construction. No product related parts, so different products can be handled in mixed runs. Available as compact table top model or on castor wheels. Adjustable tension of the band. Electronically controlled sealing device. Sealing element does not touch the product. Positive film transport Easy operation, plug-and-play. CE approved. Detailed user's manual/documentation. Ease of maintenance.
Applications: Plastic film on Reels are adapted in above machines to strap tightens, heat seals and cuts the strap automatically for bundling small objective. For example: Pharmaceutical stuff: blister packs, distribution, Medical tubes, dressings and devices, Graphics stuff: brochures, Mailing pack security, pamphlets, forms, labels and newspapers, cards, magazines, currency and security documents, books, envelopes, coupon. Gift stuff: souvenir, gift box, cosmetic, articles of luxury, a bouquet of flowers, cigars, plastic boxes, multipacks and promotional. Food stuff: Spring onion, Chives, Leeks, candy box, authentic cuisine box, cake box, salad packs, twin packs, campaign packages of cheese, food trays for the airline industry. IT stuff: main pc board, telecom cable, electric wire, power cord,...etc.
1. Other widths and lengths are available on demand.
2. Customer request color or logo printing name available.
You don't have to worry if your bundling machine didn't mention in above list. Just send your request to us freely, we will give you useful advice.
And we confirm all the materials of plastic film is 100% made in Taiwan. All the production process is follow ISO 9001:2008 standard process with quality assurance and meet to the requirement of Material Safety Data Sheets (MSDs).