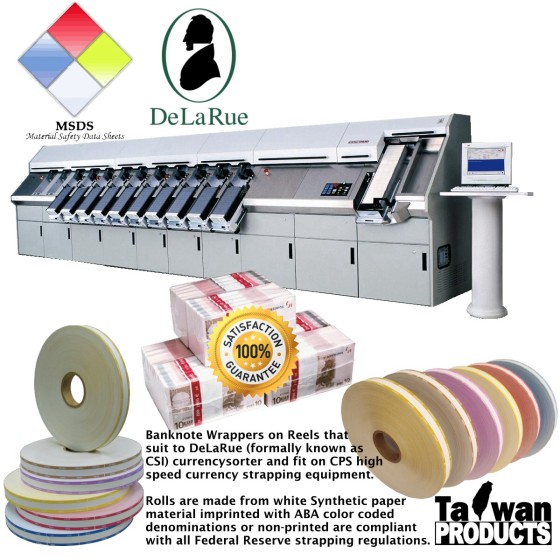 Banknote Wrappers on Reels that suit to De La Rue (formally known as CSI) currency sorter CPS 600, CPS 1200, CPS 1500, CPS 1800, DLR6000, 7000 and fit on CPS high speed currency strapping equipment.

Rolls are made from white synthetic paper material (Blended Polypropylene Tape) imprinted with ABA color coded denominations or non-printed are compliant with all Federal Reserve strapping regulations. Blue - $100/ones. Red - $500/fives. Yellow - $1,000/tens. Violet - $2,000/twenties. Brown - $5,000/fifties. Mustard - $10,000/hundreds. Rolls are 1.125" wide and are 1460' in length.


Synthetic paper (Blended Polypropylene) on Reels suit to Cash Processing Equipment

Color

Brand/Model

Origin

Width

Length

Core

Thickness

15028

Any

De La Rue (CSI) CPS 600, CPS 1200, CPS 1500, DLR6000, 7000

UK

28.8mm

445M

78mm

150um

15028

Any

De La Rue (CSI) CPS 1800

UK

28.8mm

445M

78mm

200um
Applications: Banknote wrappers on reels are adapted for the bundling of banknotes. Major customer is Central banks, Cash-in-transit companies and the Cash handling center. Our banknote wrappers on reels are subject to strict quality tests during production. It is made of a high quality PE coated paper. The material is characterised by its reliable good sealing features. Its specially adapted for the use in all common bundling machines as well as automatic banknote wrapping machines and comply with the ECB (European Central Bank) standards.