Kington KT-WII series covering a wide range of bundling applications in packing, printing, food,
post, electronical semiconductor, pharmaceutical, bank,....etc. It able to bundle tags, labels,
small packages and soft materials such as envelope, letter, papers, vegetable, banknotes etc.
P.S. Stainless surface structure is available, especially for pharmaceutical packaging only.
Floorstand Cabinet in Casters: Long reel of tape Jumbo roll (600~1000M) saves the running cost, it also less frequency exchange tape to save the setup time. Table height also can be adjustable from 84-93cm suit to different users. A foot switch makes work easier by keeping hands free.
KT-WII series Technical Specification:
Model Number

KT-WIIS

KT-WII

KT-WIIF

Size

Small

Standard

Floorstand

Dimension

460 (W) x 300 (D) x 490 (H) mm

560 (W) x 300 (D) x 490 (H) mm

560 (W) x 300 (D) x 1180 (H) mm

Net Weight

30 kg

32 kg

63 kg

Tape Length

150m

150m

600~1000m

Technology

Heating & pressing sticking

Warm up time

No warm up time required

Bundling Tension

Variable adjustment from soft to strong

Max Force

60N, can be customized bundling force firmly banding

Bundling Capacity

Max: 410 (W) x 200 (H) mm; Min: 40 (W) x 10 (H) mm

Bundling Speed

Upto 26 bunbles/minute (1,560 bundle/hour)

Start Mode

1. Automatic, 2. Start Button, 3. Foot Switch (Option)

Power Supply

220V 50Hz: Max.160W

Consumption

Temperature 0°C ~ 40°C (Operating), Humidity 15 ~ 90%

Tape Material

Both Paper Tape and Transparent Plastic film Tape

Tape Width

Standard: 30mm, Customized: 20/25/40mm

Optional Device

Foot Pedal, Auxiliary Guide (for small or soft material)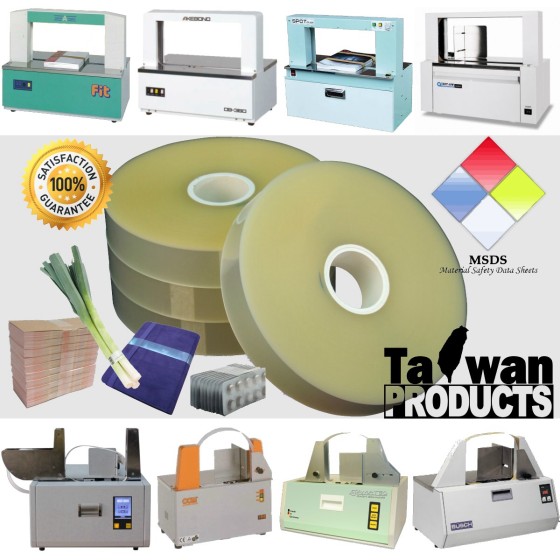 OPP film on reels that suit to Kington KT-WII series, Akebono OB-360, OP-301N, Uchida Tapit W series, ATS US-2000, Taipack TZ-888, Busch TB39-50, G-D BB40, COM JD-240 series and most of the Taping Machines in the world. The material of our plastic film on reels is Polypropylene 75%, Polyester 25% characterized by its reliable sealing features, cost effective, identification no hazards, green and clean for environment comply with MSDS approval. Kraft or film tape can printed advertisement or slogan to impressive user.
Applications: Plastic film on Reels are adapted in above machines to strap tightens, heat seals and cuts the strap automatically for bundling small objective. For example: Pharmaceutical stuff: blister packs, distribution, Medical tubes, dressings and devices, Graphics stuff: brochures, Mailing pack security, pamphlets, forms, labels and newspapers, cards, magazines, currency and security documents, books, envelopes, coupon. Gift stuff: souvenir, gift box, cosmetic, articles of luxury, a bouquet of flowers, cigars, plastic boxes, multipacks and promotional. Food stuff: Spring onion, Chives, Leeks, candy box, authentic cuisine box, cake box, salad packs, twin packs, campaign packages of cheese, food trays for the airline industry. IT stuff: main pc board, telecom cable, electric wire, power cord,...etc.
1. Other widths and lengths are available on demand.
2. Customer request color or logo printing name available.
OPP Films on Reels suit to following Automatic Taping Machines

Brand/Model

Origin

Width (mm)

Length

Core

Thickness

24025

Akebono OP-301N

Japan

30mm

200M

40 mm

60-110um

24025

Uchida Tapit W series

Japan

20/30/50mm

200/1000M

40 mm

105um

24025

ATS CE, MS 420S, US-2000 series

Switzerland

20/30/50/60mm

depending on use

40 mm

depending on use

24036

Taipack TZ-888

Taiwan

20/25/30/40mm

150 M

40 mm

120um

24036

Busch TB39-50

Germany

50mm

150/800 M

70 mm

120um

24036

G-D BB40

Germany

40mm

150 M

40 mm

120um

24036

COM JD-240 series

Japan

20/25/30/40mm

150 M

40 mm

120um

24025

Other Bundle Machines

1. Other widths and lengths are available on demand.

2. Different Thickness for cost effective is available.

3. Any requested print color or logo name is available.
You don't have to worry if your bundling machine didn't mention in above list. Just send your request to us freely, we will recommend you suitable tape.