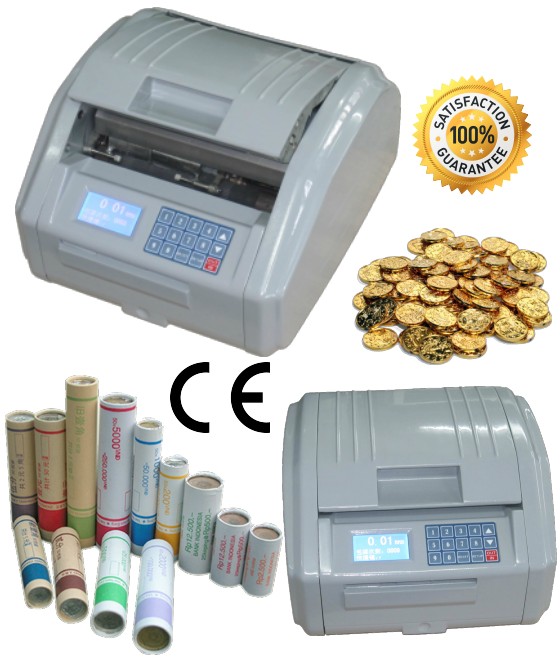 CW-6000 is Automatic Coins Wrapper, it is Cost effective & Simple Coin Wrapping Solution.
This machine can automatically wrapping the coins in paper tube, no matter what kind of diameters or thickness of coin, complete wrapping just in few seconds. It is quite easily and it works quickly with high stability and reliability, only 3 steps that stack of coins can turn into tidy coin tube in paper. It can be used to package coins of Euro, US dollars, Taiwan Yuan and so on.
Applications: It is useful device for financial agency such as bank, public transportation and super markets. Wrapping Paper can upto customer request print different denominations colors with single value, total pieces and amount. Automatic Coin Wrapper are adapted for enhance the efficiency of coin tubing. Major customer is Commercial Banks, Cash-in-transit companies, Financial institutions, Cash processing center, Public Telecom company, Mass Transit System, Gaming Center, Casinos, Vending industry...etc. We are customers' good partner to give solution reduce their daily burden and enhance the efficiency of cash handling.

CW-6000 has dot matrix LCD. It has human-machine interface, and it easy to operate. it also has unique test function. The operator can test the important parts together or alone. CW-6000 has automatic open-close door system. The door will open automatically when the packaging process is over. The operation is simple and convenient. The design is environmental and low carbon. Any waste paper weigh 80g-110g can be used for packaging without bad effects and no more waste.
Technical Specification:
| | |
| --- | --- |
| Applicable Coins | Diameter 16~30mm |
| Wrapping Speed | 5 seconds/roll |
| Wrapping Capacity | Coin stack height 55~120mm |
| Display | Super bright Dot matrix LCD |
| Dimension | 310(L) x 340(W) x 195(H) mm |
| Weight | N.W. 11.5kg |
| Power Supply | 110V/60Hz or 220V/50Hz (universal model) |
| Power Consumption | 58 watts, Standby: 5W |
| Ambient Conditions | Temperature 5°C~+35°C, 30%~80%RH |
| Optional Device | Customerized Wrapping Paper upto customer request |
| Packing Detail | 1 Set/CTN, Carton size: 73 (L) x 38 (W) x 48 (H) cm |